Alik has been picked up for more performances in Culver City. The show, which premiered to sellout audiences and lovely reviews, now continues under Culver City Players with two additional weekends:
Saturday, April 21, at 8:00 pm
Sunday, April 22, at 7:00 pm
Saturday, April 28, at 8:00 pm
Culver City Players works out of the historic "Amvets Post 2" house, right next door to the Wende Museum (just west, same parking lot). Its charming theater sits behind the site – and is reached through the lobby/house – which was once part of the MGM back lot.
Tickets are available at Brown Paper Tickets.
Culver City Players
10858 Culver Boulevard
Culver City, CA 90230
(424) 360-0330
The Premiere of Alik
Alik premiered to sell-out audiences at the Wende Museum, Culver City, California in March 2018.
Directed by Cassandra Ambe
Cast (in order of appearance)
Marina – Lauren Fordinal
Alik – Justin Powell
Pavel – Ryan Hughes
Larissa – Colleen Greenhalgh
Robert – Ricardo Diaz
Marguerite – Michele Schultz
Evelyn – Mariah Kirstie
Rimma – Tory Castillo
Production Crew
Stage Manager – Joe Clark
Set Design & Construction – Julio Vera and Gerard Moore
Props – History for Hire
Lighting Design – Cassandra Ambe
Lighting Consultant – Jonathan Daroca
Technical Assistant – Max Perrette
Costumes – Cassandra Ambe
Sound Design – Chris Lyons
Russian Consultant – Mila Ratskevich
MEDIA ADVISORY:
New Play Sheds Light on Lee Harvey Oswald's Soviet Years and Marina, His Russian Bride Who Uncovered His Demons                
CONTACT: Wende Museum, (310) 216-1600 info@wendemuseum.org
WHAT: 
Before he became the assassin of the 20th century, Lee Harvey Oswald defected to the Soviet Union, where he was called Alik and married Marina, a young Russian woman searching for love. Drawing from years of research, playwright Julio Vera has dramatized a pivotal time in Oswald's life, when his new wife begins to realize the depths of his darkness. In 1962, Oswald decides to return to the US, forcing Marina to make the decision of her life.
This intimate drama is brought to life in the shadows of Cold War artifacts currently on display in the Wende Museum galleries. This stunning setting provides an added dimension to the premiere of this new work.
"The way it weaves up and back in time and place is truly masterful… These are fascinating characters who are in some ways dreadful, in others hopeful, in all ways human," says Richard Walter, chair of the UCLA Screenwriting Program.
WHEN:
Saturday, March 17, 8:00 pm, Preview (SOLD OUT)
Friday, March 23, 8:00 pm, Opening Night (SOLD OUT)
Saturday, March 24, 8:00 pm (SOLD OUT)
Sunday, March 25, 7:00 pm (SOLD OUT)
Thursday, March 29, 8:00 pm (SOLD OUT)
Friday, March 30, 8:00 pm (SOLD OUT)
WHERE:
Wende Museum of the Cold War
10808 Culver Blvd.
Culver City, CA 90230
ABOUT:
Alik playwright Julio Vera: Julio Vera is a writer based in Los Angeles. A graduate of UCLA's School of Theater, Film and Television and Carnegie Mellon University, he has written for PBS, CBS, ABC, and Warner Bros. He works in film, television, and theater.
Wende Museum: The Wende Museum was founded in 2002 to preserve the art, culture, and history from the Soviet Bloc countries, inspire a broad understanding of the period (1945–1991), and explore its enduring legacy. In November 2017, the Wende moved to a new campus, the iconic former National Guard Armory Building in Culver City, with a mission to lift the veil on Cold War secrets and illuminate the lessons of this era for new generations. For more information, call (310) 216-1600 or visit www.wendemuseum.org.
This play is a work of fiction.  Names, people, places and incidents are the creation of the playwright and used fictitiously. Any resemblance to actual events, locations or people (living or dead) is coincidental.
 First reading of Alik in 2013

Alik received its first playwright's reading at the T. E. San Pedro Rep, San Pedro California on October 25, 2013.
Cast (in order of appearance)
Marina – Paris Langle
Alik – Mark Kopitzke
Pavel – Marco Garcia-Ballare
Larissa – Mary Emfinger
Robert – Keith Boos
Marguerite – Zane Muthamia
Evelyn – Laynie Black
Rimma – Maria Carmen Rosales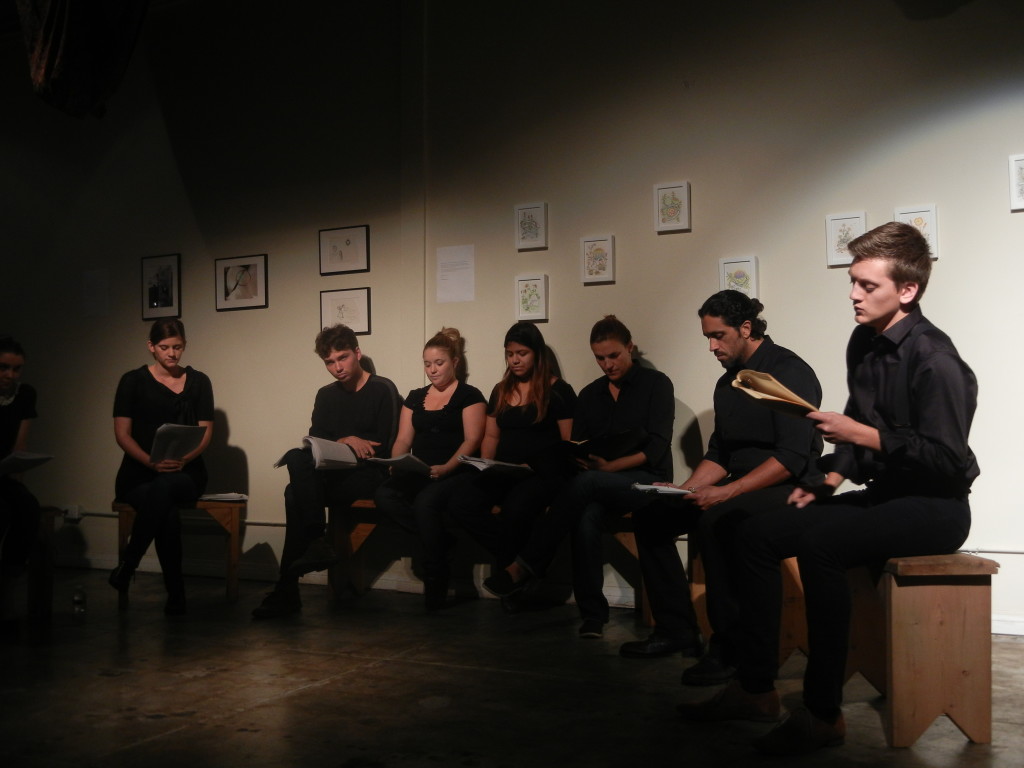 Paris Langle (far left), Mary Emfinger, Keith Boos, Laynie Black, Maria Carmen Rosales, Zane Muthamia, Marco Garcia-Ballare and Mark Kopitzke
Second reading of Alik
 Alik received its second playwright's reading at the Wende Museum, Culver City, California on November 17, 2013.
Cast (in order of appearance)
Marina – Paris Langle
Alik – Mark Kopitzke
Pavel – Marco Garcia-Ballare
Larissa – Mary Emfinger
Robert – Keith Boos
Marguerite – Zane Muthamia
Evelyn – Laynie Black
Rimma – Maria Carmen Rosales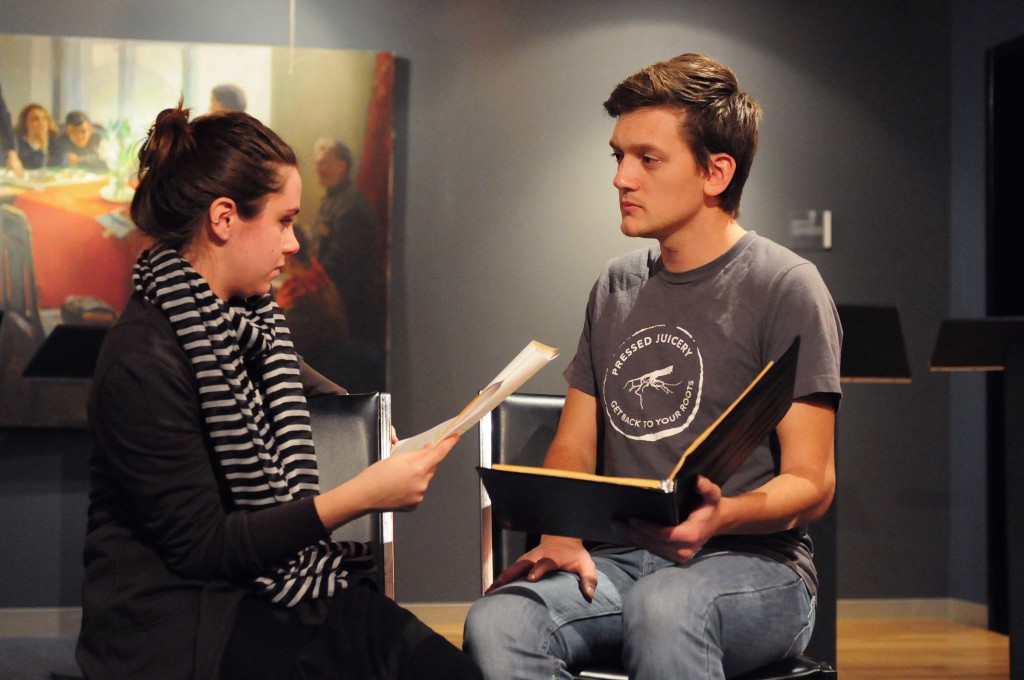 Paris Langle (Marina) and Mark Kopitzke (Alik) (Photo: Vince Gonzales)